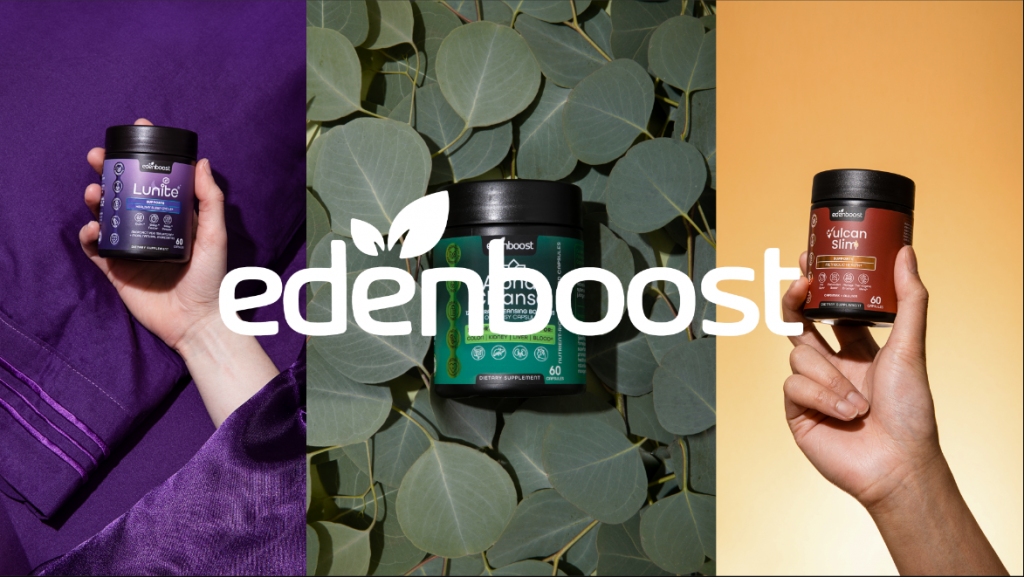 Our company, Mettlence, is a premier health and wellness company with brands dedicated to improving people's lives.
And today, we'd like to share with you one of our best brands yet, Edenboost – a nutrition brand that believes happiness begins with wellness and a healthy lifestyle.
We currently have three unique supplements on offer, each packed with so many benefits and the support of a thoroughly satisfied customer base. Oh, and did we mention everything is organic?
AlphaCleanse: The ultimate in liver-boosting, it has 12 superfoods that have various antioxidant properties – it even helps with digestion and bloating!
Lunite: If you've got problems with sleep, you can't go wrong with Lunite. Each ingredient is designed to help provide complete, long, and quality sleep.
VulcanSlim: Burning fat's never been easier. With the help of VulcanSlim, you can raise your metabolism and get a boost of energy with its thermogenic ingredients.
What's Edenboost's Mission?
Much like Mettlence, Edenboost's mission is to provide customers with quality food supplements that they can use to improve their lifestyle and live longer, healthier, and more comfortable lives. We intend to do this in 3 important ways:
Procure Premium Ingredients: We only want the best for our customers, so each one of our supplements has only the best ingredients catered to the benefits you want for your body.
Reliable Manufacturing: Our GMP (Good Manufacturing Practices) manufacturing facility in the USA is inspected regularly and thoroughly to ensure that we can deliver the best in product quality.
Customer Satisfaction: We strive for nothing but the best in customer satisfaction, offering a 60-day, 100% Moneyback Guarantee for all of our products.
Even today, we continue to ensure that all our products and services cater to everyone's needs. We would similarly like to extend this opportunity to join us as we continue to provide the best in nutrition and food supplements.
Together, we can spread health and wellness to the world!
Share This Post